Case Starter
The Largest Online Inventory of

Case Starter
Online Catalog has Starter , descriptions, pictures, and prices.
Click on the Link below to enter the Online Catalog.
New to This Site? Look at this Video Tutorial
on How to Select Tractor Starters

Case Starter.To buy a new, used, or rebuilt case starter, you will need to know the following information:1.       The original part number.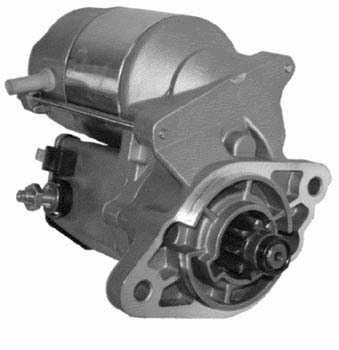 2.       Any aftermarket equivalent part number.3.       In the event the above two are not available, the machine model will need to be identified.4.       Additional information that may be required are

a.       Year of manufacture

b.      What is the fuel type, gas or diesel?

c.       The machine serial number.

With this information, the correct component can be identified.

Case Starters are stocked for most types of Case IH equipment, including tractors, combines, excavators, wheel loaders, crawlers, compact tractors, harvesters, cotton picker, lawn tractor, garden tractor, skidder, and case trucks.

As an example, the Case 850D is a long tract crawler tractor with a dozer blade. The starter for this diesel engine is Case's part number D129494.

This starter was originally manufactured by Nippondenso, provides 4.0 kilowatts (kw) of power when operating off of a 24 volts (v) system. This case starter has 10teeth on the drive, and operates with clockwise rotation.

The internal components of the case starter is mostly standard, however, it's manufactured with four commutator brushes, and two field coils. Current flows thru the field coils and the armature in series.

The original case starter part number for Nippondenso is 1280002560. This part number can be substituted for another Nippondenso part number 1280002561.

Aftermarket replacements for this case starter are provided today by AEP and Lucas. AEP replacement part number is SND0069 and Lucas's remanufactured part number is S9108.

Case starter part number 1987566C1 is a substitute, according to Case IH. Sometimes a better starter is developed after the manufacture of the machine, and that newer case starter has a different part number, however, can function perfectly on the older machines.

Typically, one case starter can function on many different machines. This particular component can fit onto the W14C, the 1000 Series loaders, 600 series, 700 series, 800 series, and the 9000 series machines.

The Super C tractor uses a gas engine. Typically, case starter for gas engines are smaller as gas engines requires less starting torque as compared to diesel engines.

This old tractor was manufactured to operate off of the 6Volts (v) system. This component is 6V, 10 teeth, CCW (Counter Clockwise), and was originally manufactured by Delco.

The part number for the Super C case starter is 355794R91. This is not provided for sale by the OEM Company anymore, and only the aftermarket is used by Farmers.